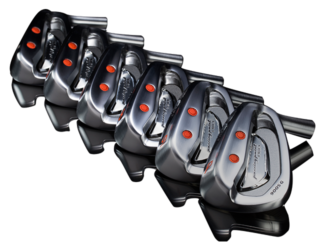 Miura's newest iron is crafted for golfers at all skill levels. This is the first Miura iron to combine the trademark feel of soft-forged steel with the distance generated by a 455 Carpenter steel face plate. The precision craftsmanship, cutting-edge technology and beauty of the design combine to make this iron a true game changer. Genesis is a head that gives a moderate roundness to the outline where the face and the face of the head connect and is a soft image. Wide sole with good slipperiness, it is packed with ingenuity that makes you feel easy.
3 POCKET CONSTRUCTION
Large sweet spot without sacrificing feel
The Genesis incorporates a center of gravity that creates the optimal combination of launch angle and spin. Crafted with the proprietary Miura forged manufacturing technique, golfers can expect feel and distance. The use of composite materials and 3-piece structure enables a new level of performance for all golfers.
455 CARPENTER SPECIAL STEEL
Maximum distance with advanced club face
The Miura proprietary forging process has historically generated high initial ball speeds, but the advancement of technology has enabled the addition of a 455 Carpenter special steel club face to achieve even greater performance. The result yields truly impressive speed off the club face, making Genesis the longest Miura iron ever.