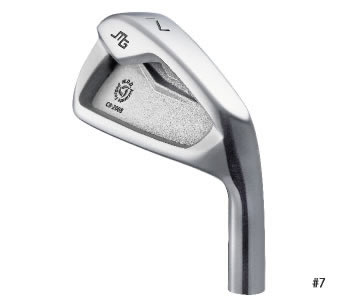 Miura boasts a soft-iron precision forging process that helped create the pocket cavity model. A twin power bridge is placed on the back of the face, creating a hit feeling and impact sound with a feeling of softness. Balls rise easily with a deep center of gravity created by the compound body design and is has a mishit friendly head.
A pocket cavity structure integrating the back body of SUS into a soft iron forged face with a thickness of about 4 mm. To pursue a soft and centered hit feeling, 2 power bridges were added to the back of the face of the impact area. Welding of the body carried out by the company also made it possible to make a thick sense of impact and impact sound, which makes a distinction from the usual composite head by meticulous work that minimizes heat conduction to the center of the face. With a stable high trajectory by deep center of gravity design, we have achieved a powerful spherical strand that goes straight forward.
The shape of the sole fed back from MCW and the largest wide sole in the history of CB-2000 series (the center part of # 7 head is 20 mm), and high bounce design that bring out their functions to the utmost, while giving gentleness to miss hits, I chose to select a rye and enable directionality.
# 9 and PW adopt normal soft iron forged cavity back structure so that you can aim the pin to dead. It realized a stable carrying distance and high spin controllability.